A GLA-Class kart is expected to be available for download this summer.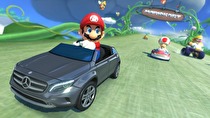 Nintendo is distributing Mario Kart 8 DLC in the form of a downloadable kart modeled after the Mercedes-Benz GLA-Class.
This DLC was announced for Japan the day before the game's release, but has now been confirmed for other territories via the Twitter accounts for Nintendo of America and Europe. The Japanese reveal made it clear that the kart would be free to download, though the American and European announcements were mum on that issue.
The specific distribution method for the kart is unclear, so it is unknown whether it will occur seamlessly via SpotPass or must be initiated by players. The DLC is expected to be made available sometime this summer.
The real-life GLA-Class is a new compact crossover automobile whose design is modified for its appearance in the game. Specifically, though the real-life car is not a convertible, the in-game model will be roofless in accordance with customary Mario Kart designs, allowing characters' heads to remain visible during races.
In Japan, this cross-promotion between Nintendo and Mercedes-Benz was accompanied by a television commercial that Nintendo fans might find interesting. Check it out below.