You will be able to Splatoon by yourself or with a friend.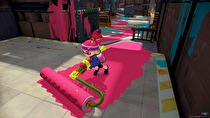 Splatoon will have single-player and multiplayer modes, according to an interview with the game's project lead, Tsubasa Sakaguchi, and Producer Hisashi Nogami. Additionally, the game will be coming out in the first half of 2015 as a full retail product.
In regards to this revelation, Nogami stated the following:
"First of all, our plan is to release this as a full retail packaged software in 2015… the first half of 2015. And because we're releasing this as a full software title, we of course plan to include a single-player mode but then also a one-on-one multiplayer mode that can be played without connecting to the Internet."
The one-on-one multiplayer will be controlled using one GamePad and one Pro Controller, though how this will work is currently unknown.