You have to work for this update.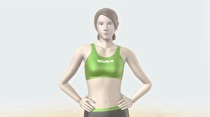 Wii Fit U update version 1.3.0 was released on June 18, adding new courses, automation, and more to the game.
There are a total of twelve new courses both for the Walking Challenge and Climbing Challenges. The courses let players walk and climb around different areas of the world to to discover cultural and historical information. Completing these new courses will unlock new headgear for your Mii.
Proceeding to the next activity has also been made automatic in My Routines. This means no more picking up the Wii Remote or GamePad to interrupt your groove.
Also, players will now be able to see individual dates when looking at the Graphs screen when viewing weight changes over one year. Previously this would only display the average weight of each month.
Other additions include increased support for posting screenshots to Miiverse and the ability to check altitude data with more detail from the Fit Meter Data screen. Full details can be found here.