Nintendo's Tezuka reveals some interesting tidbits on the origins of Mario Maker.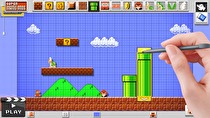 Before becoming Mario Maker, Nintendo originally intended to make a Mario Paint title on the Wii U leveraging the GamePad, Takashi Tezuka revealed to us in an interview.
It isn't clearly stated whether or not the idea was anything more than a concept, however. Tezuka stated that partway through, he changed his mind to create Mario Maker. Ultimately, he felt that creating Mario courses is a lot easier than drawing and easier to get into for gamers.
Tezuka went on to say, "So what I particularly like about Mario Paint is that it's not just about drawing. It's playing with the software itself and having fun with it as you draw. So I wanted to take those fun, clever little things from Mario Paint and implement them in Mario Maker, so it's a lot more than just a course editor."
Internal Mario course editing tools were another source for the creation of Mario Maker. While the tools used at Nintendo are a bit too complicated for most gamers, the tool team at Nintendo created a prototype that they felt would be enjoyable for players. The focus of Mario Maker is to allow gamers to create and then instantly edit and go back and work on the courses.
Mario Maker is scheduled to release on the Wii U in 2015. You can read our hands-on from E3 here. Also be sure to check out footage of the game below.