The Wii U Kart entry sold more units overall, boasted a higher attach rate, and increased hardware sales more.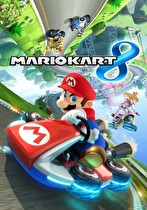 Mario Kart 8 sales figures have thus far trumped Mario Kart 7 in sheer volume and key statistical categories, such as attach rate and associated hardware sales boosts, according to a report from research analyst David Gibson derived from an "analyst meeting" during E3.
According to the report, Nintendo has indicated that Mario Kart 8 sold 450,000 units in its first 3 days, as compared to 250,000 for Mario Kart 7. The attach rate for the new iteration was 18% versus 7% for its predecessor. Hardware sales of Wii U jumped to 4.1 times its prior week sales after MK8's release, while 3DS sales only increased by a multiple of 2.4.
Nintendo previously reported sales of 1.2 million units worldwide for Mario Kart 8 during the game's first weekend of availability.