Mega Man, Moon Chronicles and more!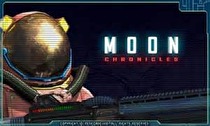 Some interesting titles this week here on the download. The 3DS continues to get some attention, with Mega Man IV and Moon Chronicles: Episode 1 coming out today. Wii U gets its fair share as well, with Color Zen and Adventures of Lolo available as well. Heck, there's even another Nintendo DS title out today! So what are you waiting for, check out and see what's on the docket today!
Wii U Downloads
Scram Kitty and His Buddy on Rails - $9.99
Now why would you tell a kitty to scram? That's not very nice. Or maybe that's just his name, I dunno. As the name suggests, it's a literal on rails shooter, so it should be a fun time.
From what the title says, it seems that one will reach their zen by...I'm not sure. Seems to be a puzzle game, so perhaps you'll be matching colors here. Don't take my word for it, however; check it out and see for yourself!
Wii U Virtual Console
Never played this title to be honest. I've heard about it, but I see the screens and...yeah. I'm sure there's a fanbase, and there are probably many out there hyped for this newest Virtual Console release.
Nintendo 3DS Downloads
Arc Style: Baseball 3D - $4.99
If you're bored with Rusty's Real Deal Baseball (and how could you be?) this might be something to consider. With summer approaching, looks like the best thing to do right now is to go outside and have some fun...inside on your 3DS!
The trilogy of Candy Match games has finally come into fruition. In this epic third part of the series, the goal seems to be the same: match candies. Are you up for the task?
Moon Chronicles: Episode 1 - $8.99
Renegade Kid's latest is finally out for all to play! It's not every day that a FPS comes out for the 3DS. It's the first in a series of episodes that will continue the story of the original Moon title for the Nintendo DS.
Nintendo 3DS Virtual Console
Mega May continues with the fourth iteration of Game Boy Mega Man games. Dr. Wily sure had a lot of evil and maniacal ideas to destroy the earth. Instead of Mega Man defeating a bunch of robots maybe the police should have, you know, investigated Dr. Wily or something. Seems to be up to no good if you ask me.
Nintendo DS Downloads
This seems to continue the trend of nautical based games on the DS in 2014. Weird to see new releases coming to this system but hey, that's cool. Seems you'll be using the touch screen to use sonar technology in order to find creatures hidden in the deep sea.
Sales
Big John Games is having a sale on the 3DS eShop. Prices for their titles will be reduced through June 5 at 9 am PST.
Atlus is having a sale on the 3DS eShop as well. Titles such as Code of Princess and Shin Megami Tensei: Devil Survivor Overclocked, among others, will be reduced to $14.99 through June 2 at 9 am PST. This sale starts on May 19 at 9 am PST.