Is Nintendo testing the water for more to come?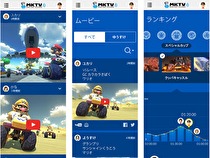 At today's Nintendo Investor Meeting, President Satoru Iwata revealed that a new web service for Mario Kart, tentatively titled Mario Kart TV, will be available some time around the release of Mario Kart 8.
This service will be accessible on all smart devices and computers, allowing users to see rankings and share highlight reels, as well as receive reels and hint videos from Nintendo. While an NNID is not required for all these features, logging in will allow players to easily find their own rankings, videos from friends, or tournament videos from those they've raced in. They have even potentially hinted at more developments like this one in the near future: "We will work on providing this type of service so that players can enjoy video games more and be in contact with them even when they are not in front of a video game system."
Nintendo addressed rumors of a move to smart devices at their third quarter financial results meeting in January, emphasizing that they were not planning to create games for the devices; however, it was stressed that the company wanted to build up a mobile presence.
Would you like to see more things like this for any other upcoming Nintendo releases? Let us know in the comments!