This holiday, Nintendo enters the Skylanders and Disney Infinity space.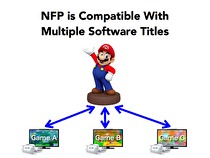 Nintendo's long-anticipated Skylanders-like NFC platform has been revealed as NFP, which stands for both "NFC Featured Platform" and "Nintendo Figurine Platform."
Nintendo's plan is to release multiple NFC (near field communication) readable/writable figures that will contain data that can be transferred to several platforms and games. Currently, the Wii U supports this feature out of the box thanks to the GamePad's NFC reader. Nintendo also plans to release an IR-based NFC reader for the 3DS within the first half of 2015 ensuring compatibility with their current portable platform as well.
Nintendo views this new platform as a way to help leverage their IPs and hopes it becomes a core aspect of the company. Additionally, Nintendo is hoping the decorative boxes for NFP figures will help raise brand awareness from those passing by at retail locations.
Nintendo plans to launch their NFP platform by the end of 2014. More details, and supported software, for the Nintendo Figurine Platform will be revealed at E3 next month.