New features are coming sometime in May.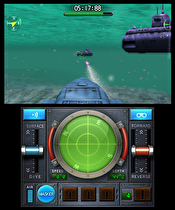 A variety of new features and content will be coming to Steel Diver: Sub Wars by the end of May, game director Takaya Imamura has announced via Miiverse.
The development team is referring to the future update as "Version 2.0." There are several tweaks planned, including basic fine-tuning of the submarines' stats and the addition of a new multiplayer stage.
Version 2.0 will also add bonuses for winning streaks in Internet Battle Mode's Matched Skill Battles. Premium Version owners will be able to choose from a wider variety of submarines as they gain levels after the update, and more subs will be added to the game's Online Shop as well. Finally, in reaction to fan feedback, the team has added a feature in which players will be notified and penalized when they torpedo their allies.
A previous update focusing on stat-balancing and smoothing out the online play experience was issued in March.