The Fluidity developer is returning to Nintendo platforms with a sequel to a beloved game.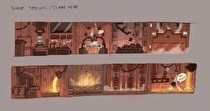 Stealth Inc. 2, a Metroid-style puzzle platformer from the developers of Fluidity, is coming to Wii U exclusively (at first) later this year.
Unlike the first game in the series, which was level-based, Stealth Inc. 2 will be a more full-fledged exploration game with a progression more akin to Nintendo's own Metroid series. It will still contain puzzle rooms similar to the original, but there will be a greater emphasis on getting new gadgets and exploring the world.
According to Curve Studios, Nintendo got in contact with them when they were developing Stealth Inc.: A Clone in the Dark for Sony platforms. While they were too far along in development to make the original for Wii U, Curve decided instead to bring Stealth Inc. 2 to Wii U, making use of the GamePad for co-op gameplay and hoping to capitalize on a market hungry for games.
There is no guarantee that Stealth Inc. 2 will always be a Wii U exclusive, but for now, Curve Studios is only working on a Wii U version.