However, they're only for Europe.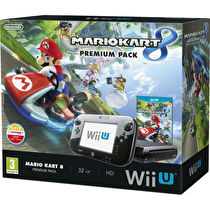 A new Mario Kart 8 Premium Pack - Special Edition console bundle was announced by Nintendo U.K., and is offering two other game bundles and character-themed Wii Remotes to coincide with the game's launch.
The Premium Pack, as pictured, is available for pre-order for £249.99 and simply comes with the Wii U Deluxe and Mario Kart 8. The other two bundles available are Mario and Luigi themed. These both include a Wii U Deluxe and Mario Kart 8, plus a character-themed Wii Remote, Game Guide, Wii U Wheel, GamePad protector, and even a hat. This surplus of accessories will only cost £50 more than the Premium Pack, at £299.99, available for pre-order now.
Supplementary Yoshi and previously announced Peach Wii Remote Plus controllers also joined the aforementioned console bundles on the Nintendo store. They will cost you £39.99 each, but are looking mighty fresh.
All of these pre-order items have only been announced for Europe. They can be seen in the gallery at the bottom of this article.