Get ready for a whole bunch of pixelated puzzles coming soon.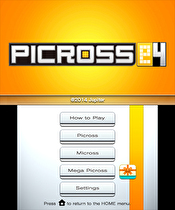 The fourth game in the Picross e series, aptly named Picross e4, is scheduled to release on 3DS on May 1 release in North America and May 22 in Europe.
The Picross series is a combination picture crossword strategy game where players use provided number hints to reveal the hidden image. The game will include Micross and Mega Picross modes as well as a navigation feature. With over 150 new puzzles, and brand new 20x15 puzzles added, e4 promises to fill the Picross void in your life for a while. Returning players can even use save data from previous games to unlock additional Special Puzzles.
Picross e4 will be available for $5.99, £4.50 or €5.00, only from the Nintendo eShop.