Remixes, Yoshi, veterinarians and much more this week!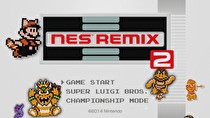 Lots out this week across a multitude of Nintendo systems. Wii U sees NES Remix 2 and Super Mario Advance 3. Nintendo 3DS doesn't have similar AAA titles on offer, but there might be something up your alley. We even see a Nintendo DSiWare release this week as well! I know, it's crazy. Let's take a look!
Wii U Downloads
The cavalcade of NES classics are back to test your skills. You might have been the man (or woman) back in 1986 when you last played Kid Icarus, but are you up to the task now? Many NES classics are represented here and as far as I can tell, it looks like a blast. This is out April 25, so be aware of that.
This game seems to be based on teaching young children about the importance of recycling. Good message to send out to the kids as that is indeed something we should all take part in. However, I've seen a trailer and...erm, it's educational. It did indeed teach me a lot of things.
Wii U Virtual Console
Yoshi's Island: Super Mario Advance 3
Just when you think you're all Yoshi'd out, he sucks you right back in! This, of course, is a port of the SNES original, which was a blast to play. Remember, if you touch fuzzy, you get dizzy. At least, that's what the game says. I have my own theories.
Nintendo 3DS Downloads
Mystery Case Files: Return to Ravenhearst
Seems like there's a mystery in this game. And this game will return you to Ravenhearst, which seems to be somewhere players have been, perhaps in this previous game. I don't know much about this game, so indeed it's a mysterious title.
In this game, it appears you'll be playing as a vet on a farm that tends to sick animals. Make sure you don't freak them out when giving them a shot, especially if you're tending to horses or something. If you think they're sick, just wait until you get bucked in the ribcage.
Nintendo DSiWare
Yes, there's actually a new Nintendo DS game out today. Astonishing, isn't it? This game looks kind of like Battleship, except it isn't. Good thing this came out years after everyone moved on to a 3DS or else people would notice! I'm sure there's something here for people who are still clinging on to their DSi's, however.
Sales
Games by developer Joindots are on sale until May 8 at 9 a.m PT. List of games in the press release were:
Demo