The new game features more than 200 songs and 60 characters, encompassing nearly every inch of the Final Fantasy series.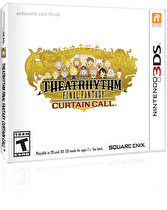 Theatrhythm Final Fantasy Curtain Call is slated to come out in North America and Europe later this year.
The sequel to the 2012 3DS release came out this week in Japan and features a brand new versus mode in addition to 200 songs, a big increase over the original's 70+ track list. Games such as Final Fantasy Tactics and Final Fantasy XIV: A Realm Reborn will be represented for the first time. Curtain Call also adds more characters, including Barret from Final Fantasy VII and Benjamin from Final Fantasy Mystic Quest.
The new versus mode lets players compete head-to-head, and the new quest medley mode lets players create their own song-based quests that can be shared with friends.
Square Enix won't give Curtain Call more than a "2014" release, though a summer release like the original is likely.
Check out our hands-on preview from Tokyo Game Show 2013 for more details.