Mario goes golfing and you become an artist in this month's rewards.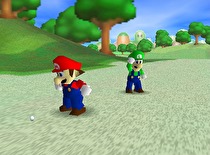 Four new games are available as rewards on Club Nintendo this month.
The games included are Trajectile, Super Mario World, Art Academy: First Semester, and Mario Golf.
A DSiWare title, Trajectile has you bouncing missiles around to solve puzzles. For 200 coins, you can download it on 3DS eShop.
Super Mario World is a classic platformer. If you have never played it you are simply missing out on an important piece of Nintendo history. Originally launched with the SNES, this game propelled Mario into the 16-bit era in what many consider to be his finest 2D adventure. You can download it for 200 coins exclusively on the Wii U.
Learn to be an artist in Art Academy: First Semester. This DSiWare game teaches you the fundamentals of art. So maybe you won't become a world famous artist, but for only 200 coins, you can improve your skills, only on the 3DS.
Lastly is Mario Golf for the N64. Downloadable on the Wii Shop Channel on the Wii and Wii Mode on the Wii U. For 250 coins, you can join up with Mario and friends in his first 3D golf outing.
Get 'em while they're hot! These games will only be available until May 11.