Get that car parked and crank those tunes.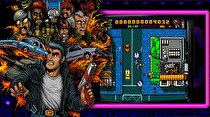 A new update is available for Retro City Rampage: DX on the 3DS and includes a hefty amount of new fixes and features.
Here's a list of all the added goodies and changes that are stated in the announcement video from Vblank Entertainment:
Added parking garages

Store one of each vehicle (that's over 50 parking spots).
Access them from any garage in the city.

Added waypoints

Drop waypoints on the minimap for driving directions.

Added music jukebox

Listen to 148 of the game's tracks, almost 3 hours in total.
Located under Main Menu->Help & Options

Animated the dysentruck
Prison stealth mission tweaked

The last guard now stops looking once you're a reasonable distance away.
Added a checkpoint to prison stealth mission.

Fixed reset to defaults bug
Water now animated in 8-bit mode
Fixed 8-bit/Retro+ mode switching bug
Fixed cameo character run speed after being on fire
Fixed a couple of graphical glitches
Reduced memory usage
Sound effects during fast forward optimized
Miscellaneous other tweaks/fixes
Retro City Rampage: DX has been out for roughly two months, and was well received when it released on 3DS.