More and more characters just keep coming.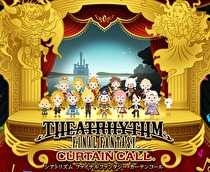 Four new characters have been confirmed to be in Theatrhythm Final Fantasy: Curtain Call. Eiko from Final Fantasy IX, Jecht from Final Fantasy X, Fran from Final Fantasy XII and Noel from Final Fantasy XIII-2 will be making appearances in the game.
Theatrhythm Final Fantasy: Curtain Call contains over 60 characters from various Final Fantasy games and over 200 songs from the mainline titles as well as DLC from Romancing SaGa and Romancing SaGa 3. The title is set to come out in Japan on April 24 at physical retail stores for 5,800 yen, in a special 3DS XL bundle for 23,000 yen, and on the 3DS eShop for 4,444 yen. Square Enix has yet to reveal a release date outside of Japan.
To read more about the game, check out our impressions from the Tokyo Game Show here.