Gamers in Japan can get some discounts on some of the hottest games available on Nintendo's digital service.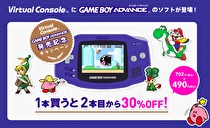 Two different sales are available on both the Wii U and Nintendo 3DS eShop in Japan. Game Boy Advance titles on Wii U, which are set to release on April 3, will be featured in a campaign. After buying one GBA title at the standard price of 702 yen, gamers will receive the second for 30 percent off (490 yen). The first leg of the campaign runs from April 3 to April 6 and includes the following titles: F-Zero: Maximum Velocity, Golden Sun, Advance Wars 1 + 2 (combo title), Super Mario World: Super Mario Advance 2, Kirby and the Amazing Mirror and WarioWare Inc.: Mega Microgame$. The second part of the campaign kicks off with the release of the second batch of GBA titles on April 30 and runs until May 4. The titles included in the campaign are Mario & Luigi: Superstar Saga, Mario Tennis: Power Tour, The Legend of Zelda: The Minish Cap, Kirby: Nightmare in Dream Land, Metroid Fusion and Wario Land 4.
Square Enix is also having a sale on Dragon Quest VII and Bravely Default: For the Sequel on the 3DS eShop. The sale runs until April 8 and offers 50 percent off of Dragon Quest (bringing it down to 2,900 yen) and 30 percent off of Bravely Default (down to 2,500 yen). These sales are currently exclusive to Japan.