The upcoming strategy RPG with Tales characters is coming to the 3DS.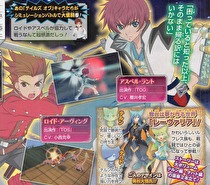 Tales of the World: Reve Unitia is in development for the Nintendo 3DS.
Revealed in the latest issue of Jump magazine in Japan, it will be a strategy RPG featuring Bandai Namco's Tales characters, including Lloyd from Tales of Symphonia. It seems to be based on a mobile only title, Tales of the World. The main story of the game will feature full voice acting.
There is currently no word if a western release is in the books.