Dr. Mario, paging Dr. Mario! Please report to all Wii U systems.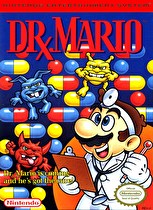 Everyone's excited about the upcoming Game Boy Advance releases next week for the Wii U but sit tight, everyone! That's next week. This week we have skating cats, plumber doctors, and stylish stylists. Oh, and there's Clu Clu Land. But hey, it beats Volleyball or Tennis at this point.
Nintendo 3DS
I am an Air Traffic Controller Airport Hero Hawaii
Well, that's a pretty long title. But at the same time, the idea is clear, you are indeed an air traffic controller in this game! But it's up to you if you will be a Airport Hero. And I'm pretty sure it takes place in Hawaii so yeah you'll be there.
This seems entirely implausible. Cats mostly just sleep or run across my backyard eating my dog's food. Why would they muster the energy to skate? Well, then again, you also have to consider I would never have thought that hedgehogs could be blue and run really fast, so Skater Cat has got me there.
3DS Virtual Console
Clu Clu Land seems like one of those games Nintendo should revisit. It's a fun little puzzle game that doesn't take up too much time. The old school aesthetic applied to a remake would be pretty nice, too. But I'm not here to reminisce, this is a nice old school game to recommend to anyone.
Wii U
I like my hair. But I guess I could do something to change it, maybe spice it up a bit, you know? My Style Studio: Hair Salon will probably give me some great ideas. Good thing I'm not bald!
Wii U Virtual Console
I don't know how Mario found time to became a doctor. That takes a LOT of years to accomplish, and since he's so busy saving Peach, I'm not sure how he fit his residency in his busy schedule. But I guess when he's not busy kicking Bowser's butt he just wants to help out as many people as he can. If he's not fixing a clogged toilet, he's looking for a cure for the common cold. That's Mario for you!
Sales
NWR has information on the Ubisoft sale going on right now, so be sure to check out the list of games for sale and pick something up while you still can!
Demos