Poo stick, get your poo stick here!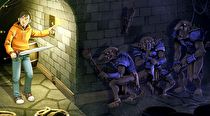 EnjoyUp Games recently announced a substantial update for Unepic on the Wii U.
Both American and European versions have received numerous changes:
New languages supported:

American version: Italian, German, & Portuguese
European version: Portuguese

Zoom on TV
Play with both the Left Stick and D-pad
Change language within the game
English voices can be enabled in other languages
A new "stick and poo" wand included
Two new pets that can be obtained by completing challenges
Unepic was released last January on the Wii U eShop and is a light-hearted RPG wherein the protagonist is transported to a series of dungeons after going to the bathroom during a D&D session.