Finally, fun with flying felines!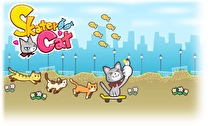 Skater Cat will be coming to the 3DS eShop next week.
The game is an endless runner style 2d platformer where players will take on the role of a skateboarding feline named Ollie. Players will skate through 3 worlds with over 25 levels. Rounding up stray cats along the way can earn players up to a total of 90 collectible medals. Ghost runs and best times can be exchanged via the SpotPass and StreetPass features.
Heading to the Skater Cat Facebook app and clicking "LIKE" on Teyon's Facebook page will reveal a special item download code which players will be able to redeem upon the game's release.
Skater Cat will be available on the North American and European eShops on March 27 for $4.99/€4.99 respectively.