Yes, there really were Wii games with DLC.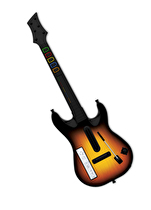 All downloadable content for the Guitar Hero, Band Hero, and DJ Hero games are being removed March 31 from their in-game stores.
Songs previously downloaded will still be available, and servers for the games will remain online. Many songs are going on sale, up to 50 percent off, now until their removal. To take advantage of the sale, Nintendo Points are needed. Nintendo eShop currency does not apply to the Wii Shop Channel.
There have been many games under the "Hero" brand on the Wii including Guitar Hero 5, Band Hero, Guitar Hero: Van Halen, Guitar Hero: Aerosmith, and DJ Hero 2 among numerous others.