This week, Yoshi's New Island is the big one.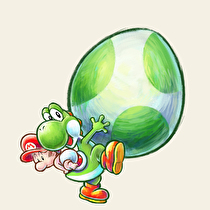 This week, Yoshi's New Island is the big game on the new releases block! But there are also a slew of other games coming out for both the Nintendo 3DS and Wii U. Want to play the Super Mario Bros. game that didn't exist here until 1993? Now you can! Do you wish to further refine your ABC skills? It's here! Enjoy popping bubbles? We got that for you here as well this week, so let's take a look.
3DS Retail Games
Yoshi's New Island (Available March 14) - $39.99
The baby Mario crying simulator will soon be yours. This time he's crying because he and baby Luigi were taken to the wrong parents, and now have to get back to their rightful family. I thought the stork would be more organized than that, but I guess sometimes things just happen.
Madagascar 3 & The Croods Prehistoric Party Combo Pack - $29.95
I haven't watched any of these Dreamworks movies, but I'm pretty sure the talking animals say wittier things than I do. Actually, I'm sure of that. Sounds like a great bargain for two games in one.
3DS eShop Games
Bubble Pop World - $4.99
Bubble Pop World uses the 3DS's AR abilities to pop bubbles in a variety of stages. This sounds pretty cool, but I like popping bubble wrap a lot too; I wonder if they're going to release a game like that anytime soon. Regardless, this should be fun for all of the bubble popping fans across the world.
Cube Tactics - $4.99
This strategy game for the 3DS has you pitted in a war. A war of the cubes. It sounds pretty fun, with a variety of quests to do as well as online multiplayer. Just remember, though- all fair in love and war. With cubes.
Lola's ABC Party - $3.99
Giving this game to your kid is great primer for young children. Soon they'll be reading at a 4th grade level in kindergarten and will be doing calculus by the second grade! Okay, maybe not. After all, I can't even do calculus. Or algebra, for that matter. I'm not a math major, obviously.
Wii U Virtual Console
Super Mario Bros.: The Lost Levels - $4.99
Stick it to the people who thought this game was too hard for western audiences by purchasing this and beating it. Trust me, the difficulty is amped up big time, but once you beat it, you'll be rewarded justly. Well, it'll just be a sense of self-satisfaction, but that's still pretty cool.
3DS Virtual Console
Galaga - $4.99
Soon you'll be able to shoot lasers out of spaceships and destroy weird creatures with the NES classic Galaga! I don't really know what else to say. There is nothing to be said, that's pretty much the point of the game! It is an all time great game, I must admit. Who doesn't enjoy destroying space creatures? Probably the space creatures themselves. I don't think they like that.
Downloadable Content
CastleStorm Warrior Queen Expansion - $2.99
The Warrior Queen expansion pack for CastleStorm adds a whole bunch of cool weapons, including using Golem hostages. I wonder how they actually hold these Golems hostages. I'm sure it's not an easy task at all.
Sales
SteamWorld Dig - 50% off
People have been telling me to get this and I really, really need to. Especially now that it's 50% off! Reviews have been glowing and this is an all time low offer so it's in your best interest to nab this as soon as you can!
Zen Studios Pinball Sale - 50% off
Pinball has sure evolved since the days of Pinball for the NES. Well, maybe not, but the graphics are prettier, I'm sure of that one. This game a best bet for pinball action and at 50% off, it's sure to be a fun time.
Demos