The pouches are available in light blue or pink.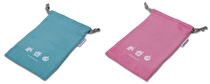 Two new Animal Crossing 3DS XL pouches are now available as Club Nintendo rewards in North America. The pouches, which feature three different icons from the series, are available in either light blue or pink and cost 500 coins.
These pouches were designed for the 3DS XL, but Nintendo points out that they will also accommodate a standard Nintendo 3DS, as well as any piece of hardware from the Nintendo DS family.