Just in case you needed more Sochi in your life.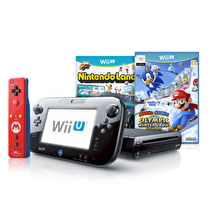 A Mario and Sonic Winter Olympics bundle is being offered for £299.99 on the Nintendo UK store.
With the Sochi Winter Olympics in full swing, the Nintendo UK store has issued an ad for this Wii U bundle offer, which is described as a £75 discount on the retail price. The bundle includes:
- A 32GB Wii U Premium console in black
- Mario & Sonic at the 2014 Sochi Winter Olympic Games
- Nintendo Land
- A Mario themed Wii Remote Plus
- A Nintendo Network Premium Membership

Several other Wii U bundles are still being offered on the Nintendo UK store, such as the Legend of Zelda: Wind Waker bundle for £249, or the Mega Mario bundle for £299, both released late last year.