We got your Metroid Fusion, your Mario & Luigi: Superstar Saga, and more.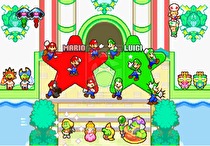 Game Boy Advance games are finally coming to Virtual Console on Nintendo's Wii U platform.
Originally mentioned by Nintendo right back in January at the start of last year, the news comes at long last from today's Nintendo Direct press release.
Initially, the only three games announced have been Mario & Luigi Superstar Saga, Metroid Fusion and Yoshi's Island: Super Mario Advance 3. More games are coming later on. The games will be hitting the Wii U eShop from April this year onwards.
In Japan, the lineup is more locked down. Super Mario Advance 2: Super Mario World, WarioWare, Kirby and the Amazing Mirror, Golden Sun, F-Zero: Maximum Velocity, and the Japan-exclusive Advance Wars 1+2 are all hitting on April 3. Mario & Luigi: Superstar Saga, The Legend of Zelda: The Minish Cap, Mario Tennis: Power Tour, Wario Land 4, Kirby: Nightmare in Dream Land, and Metroid Fusion will launch on April 30. All titles will sell for 650 yen.
There has been no confirmation that these games will be available to download on the 3DS Virtual Console service in the future.