The 3DS version is being developed by the team behind the last Sly Cooper.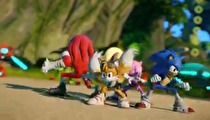 A brand new Sonic game, called Sonic Boom, is headed exclusively to Wii U and Nintendo 3DS later this year. It's a prequel to the new Sonic CG TV show of the same name, and features new character designs, including a burlier Knuckles. Sonic Boom is the third in three previously announced Nintendo-platform exclusive Sonic titles from Sega.
The Wii U version is being developed by Big Red Button, a team led by the former Art Director of Naughty Dog. The developers worked closely with Crytek to bring the CryEngine 3 to Wii U, and all of the characters in the game have been completely redesigned to fit the new aesthetic and engine. Even traditional villains like Eggman have been remodeled. In addition to Knuckles being bigger, Sonic is peppered with bandages and athletic tape.
All of the characters will have specialties based on their strengths and personalities. Knuckles will have excellent strength, Tails will utilize gadgets, Amy Rose will have agility on her side, and Sonic of course will be fast. The game will have a strong emphasis on local co-op play (there is no online multiplayer).
A Nintendo 3DS version of the game is also in development by Sanzaru, but no details are available as of yet. As the 3DS would not be able to run CryEngine 3, one can assume the 3DS game will be as different from the Wii U game as Sonic Lost World was on 3DS. NWR had the opportunity to record a few interviews at the Sonic Boom unveiling event. Watch them below.