Download The Legend of Zelda: A Link to the Past in this weeks Nintendo Downloads.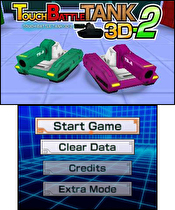 This week's Nintendo Downloads offers a double helping of eShop originals, along with two classic Virtual Console titles.
Wii U eShop Sales
Super Indie Sale – 60 percent off the following titles until 9 a.m. PT on February 13:
3DS eShop Games
Tired of playing Solitare on that unwieldy desktop, or maybe your laptop is just too big to carry around? Well, now's your chance to own what you already have on every other device on your 3DS.
Touch Battle Tank 3D 2 - $4.99
The sequel to the first Touch Battle Tank 3D is finally available on the eShop. If you're like me and have never heard of the series, it's a top-down shooter where you control a tank through 90 stages of the "futuristic tank shooting war."
3DS Virtual Console
The brothers first adventure is finally availibe on the 3DS. Before they were gallant plumbers saving damsels from giant turtles, they were plumbers who fought small, aquatic animals.
Wii U Virtual Console
The Legend of Zelda: A Link to the Past - $7.99
You can finally play A Link to the Past on the Wii U GamePad. No longer do you have to suffer through the Wii U's less than perfect backwards compatibility. If you enjoyed The Legend of Zelda: A Link Between Worlds, it's the perfect time to give its predecessor a chance.