The depths of the moon will be explored across a long-term episodic model.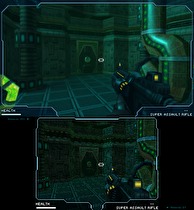 Mutant Mudds developer Renegade Kid has announced Moon Chronicles, a first-person shooter for 3DS that will be released over several seasons, beginning with a remake of DS title Moon from 2009.
The first season of the game, which was outed earlier this month by a trademark listing, will be launched in four discreet episodes on the eShop over the course of 2014. Episode 1, priced at $8.99 in North America, will contain approximately 4 hours of content, while the subsequent three episodes, which will be released as downloadable content for the first chapter, shall cost $1.99 each and continue the story with around 2 additional hours of gameplay per episode. As a remake of Moon, this season will incorporate enhanced graphics and support the Circle Pad Pro peripheral.
According to the studio's co-founder Jools Watsham, the second season of Moon Chronicles is set to come out next year, and will feature entirely new gameplay and storytelling, separate from that of the original Moon.
In an interview with IGN, Watsham revealed that the game's episodic structure was inspired by television dramas.
He said: "We love shows that really cement the feeling where you watch an episode, you have a cliffhanger, and you absolutely need to watch the next one. That's our plan for season two and beyond, [for us] to approach it in a similar way. 'What's the whole point of the season? Where do we start and where do we end up?'"
Moon Chronicles currently has a tentative release date of spring 2014.