I trust there'll be no objections?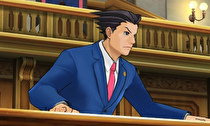 The original trilogy of Phoenix Wright games is getting another re-release, this time in a special trilogy pack for the Nintendo 3DS in Japan on April 17.
The lengthily-titled compilation, Gyakuten Saiban 123 Naruhodo Selection, collects the first three games in the series onto one 3DS cartridge for 3,990 yen. There has been no word as to whether the games will feature the updated 3D character models from Ace Attorney 5, but the collection will feature a stereoscopic 3D effect.
As with the DS versions of the games, an English language option will be present in the three titles, and the game's box art is being designed by Tatsuro Iwamoto, who provided artwork for the original versions on the GBA. A limited edition of the game has also been announced.
Along with the collection, a new drama CD starring Phoenix and Edgeworth will be released at the same time and feature Godot in his first drama appearance. Those who pre-order the CD will receive a download code for wallpaper artwork and arranged BGM music as a bonus.
Both the game and the CD will be released in Japan on April 17. There is no news on whether a localized version of the game is coming at this stage, but we'll be sure to report on it if and when it happens.