The fabled reward has returned!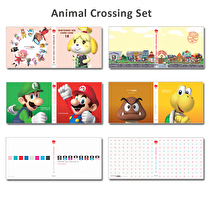 Club Nintendo has released a new Game Card Case in the North American rewards store today, with two themes available. For 400 coins, gamers can choose between The Legend of Zelda or Animal Crossing versions.
The case, shaped like a game box, can carry up to 18 3DS or DS games inside. It comes with three double-sided covers to customize the exterior. The Zelda pack will come with a cover featuring that franchise, another with stylized Mario villains, and also a Club Nintendo themed cover. Animal Crossing's pack is nearly the same, but with close-ups of Mario characters instead of villains on its Mario-themed cover.
Club Nintendo previously released a Game Card Case in NA back in December 2012, which quickly sold out, for 250 coins each. After being listed as out of stock for several months, Club Nintendo's customer support announced its return was unlikely at the time since the reward was "produced in limited quantities".
Check out the gallery below for the cover designs!