A new listing may have outed the Mutant Mudds developer's mystery project.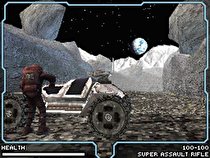 Renegade Kid, the studio behind the Dementium series and eShop platformer Mutant Mudds, have registered a trademark for a new game titled 'Moon Chronicles'.
The trademark application, unearthed via NeoGAF, follows the recent news that Renegade Kidd had acquired the publishing rights to the Moon license after the conclusion of a five-year deal with Mastiff. This has contributed to speculation that it could be related to the company's 2009 first-person shooter, Moon, for Nintendo DS, although platform information for this new game remains unknown.
Renegade Kid co-founder Jools Watsham earlier teased on Twitter that the developer was finalising a playable demo for a new 3DS shooter, to be revealed during a press event at the end of this month. However, it was not confirmed whether this was an unannounced project, or whether this referred to Cult County, another of Renegade Kidd's upcoming FPS games for the 3DS.