It's been a long time coming, but Nintendo will have some news on the app shortly.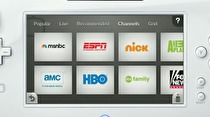 The status of the much-delayed Nintendo TVii service in Europe will be announced "in the near future", Nintendo confirmed in a recent update.
The app, which has been inactive on the European Wii U menu since the launch of the system, was originally intended to launch in 2013, prompting Nintendo to apologise for the extended delay on their official website (discovered via Nintendo Life.)
Nintendo TVii was made available in North America and Japan in December 2012. The service connects with television providers and streaming services such as Netflix and Hulu Plus to provide a library of TV content. Users can also utilise the GamePad while watching their program to look up information and reviews about the show, as well as share their thoughts on Miiverse.