The Canadian developer's future lies solely on Nintendo systems.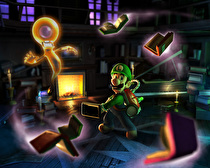 Next Level Games, the makers of Nintendo 3DS hit Luigi's Mansion: Dark Moon, will develop all of their future games exclusively for Nintendo platforms, as revealed by Next Level co-founder Jason Carr.
The company remains an independent studio and has not been purchased by Nintendo, but it will now serve as a second-party developer, maintaining its close relationship with the Japanese giant.
In an interview with Gamasutra, Carr said: "All the stuff that we really focused on was very gameplay-centric; it wasn't massive RPG storytelling and all that. Nintendo has a very similar approach. So definitely, we like to make the same sort of games, so that's a good fit.
"And yeah, the stability as well. There are a lot of benefits to working with a first party. Nintendo's great. They give you the time to make the games good," he added.
Based out of Vancouver, Canada, Next Level Games first collaborated with Nintendo on Super Mario Strikers for GameCube, before moving on to its follow-up, Mario Strikers Charged, and the reboot of Punch-Out!! for Wii. Their most recent project was the aforementioned Luigi's Mansion sequel for 3DS.