Finally the GamePad lives up to its initial reveal!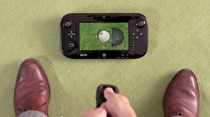 Wii Sports Club: Golf will be available today for Wii U.
The game has the added ability to use the GamePad as a second screen showing the ball on the ground while swinging, similar to the golf tech demo shown for the system in the past.