Bring on the Miiverse!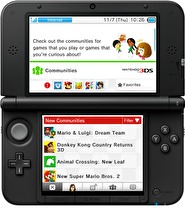 Nintendo has released System Software version 7.0 for Nintendo 3DS, which includes Miiverse support in addition to several other features. Notably, the system update allows users to link a Nintendo Network ID they've already established on Wii U, or create a new Nintendo Network ID. This functionality allows players with Wii U and 3DS to share a common wallet across the eShop on both systems.
Aside from Miiverse, another smaller enhancement included is a change in the way the user launches the 3DS Camera app. Previously, a user would press either L or R from the home screen. In System Software version 7.0, a user must press L and R simultaneously to launch the app. This should prevent the user from launching it by accident.
Another change with this system update is the removal of the 3DS system transfer limit. Previously, the system transfer could only be performed 5 times. That limit has been removed in System Software 7.0.
With the 3DS Miiverse launch, the following games have already received communities in the service:
Pokémon X & Pokémon Y
Legend of Zelda: A Link Between Worlds
Animal Crossing: New Leaf
Mario Party: Island Tour
Mario & Luigi: Dream Team
Mario Kart 7
Super Mario 3D Land
New Super Mario Bros. 2
Luigi's Mansion: Dark Moon
Scribblenauts™ Unmasked: A DC Comics Adventure
Skylanders SWAP Force™
Phoenix Wright®: Ace Attorney® - Dual Destinies
Sonic Lost World™
Monster Hunter™ 3 Ultimate