Super Mario 3D World has the lowest first week sales of any 3D Mario game.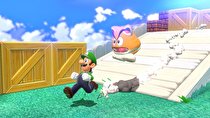 Super Mario 3D World debuted second in Japanese sales charts with 99,588 units sold.
Bested by Lightning Returns: Final Fantasy 14, which managed to sell over 250k copies, Super Mario 3D World's sales were quite low compared to other Mario games. Its sales placed it as the lowest debut of any 3D Mario game in Japan, below Super Mario 64 DS. In comparison, the best debut was Super Mario Galaxy 2 on the Wii with over 330k games purchased.
The Wii U was the third best selling system the past week at 21,002 units sold, below the 3DS at 63,709 and the Sony PlayStation Vita at 21,044 (42 units more than the Wii U).