If you were planning on shaving your feet, stop right now!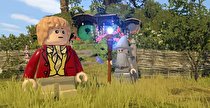 LEGO The Hobbit is coming to the Wii U and Nintendo 3DS.
This new LEGO title will be based off the first two Hobbit movies; The Hobbit: An Unexpected Journey and The Hobbit: The Desolation of Smaug. They are of course based off of the J.R.R. Tolkien book The Hobbit. Like other LEGO games it will feature many playable characters from the series including Bilbo Baggins, Gandalf the Grey and all of the dwarves.
Featuring many distinct locations from the first two films, LEGO The Hobbit is set for a release in spring of 2014.