Persona fans rejoice!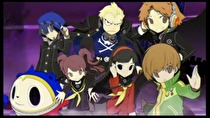 Persona Q: Shadow of the Labyrinth is coming to the 3DS.
Persona Q combines the characters of Persona 3 and 4 into an all-new RPG. The game has the characters done in chibi-styled visuals and is being directed by Daisuke Kaneda , the director of Etrian Odyssey IV. It has similar gameplay with his other series with its focus on dungeon crawling. No word on a North American release has been given, but it does come out in Japan on June 5 next year.
The new title was announced during an Atlus event along with Persona 5 for the PS3, Persona 4 Arena 2 for the PS3, and Persona 4: Dancing all Night for the PS Vita.