The DLC item doesn't escape this side of the world.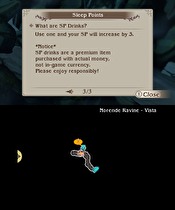 The European version of Bravely Default: Where the Fairy Flies features the previously mentioned SP Drink. We can confirm this after toying around with our copy today.
The SP Drink will allow players to instantly regain points so that you can more freely attack and use the Bravely Second feature. With Bravely Second, you can attack at any given moment which gives you an edge over the competition.
SP can usually be earned by putting your Nintendo 3DS in sleep mode for eight hours, however, the SP Drink is available as a purchase on the Nintendo eShop. These options weren't active at the time of writing this article, but the game describes them at full length.
Bravely Default: Where the Fairy Flies will be available on December 6, 2013 in Europe and next year in North America.