Nintendo is set to kick off 2014 with the adorable pink puffball invading your 3DS.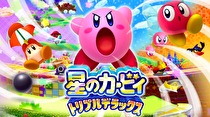 Hoshi no Kirby: Triple Deluxe, better known as simply Kirby: Triple Deluxe in the West, is coming to the Nintendo 3DS in Japan on January 11. The game will retail for 4,800 yen and will be available both physically and as a digital download on the eShop. This latest entry in the series sticks to the traditional side-scrolling roots but makes use of the handheld's stereoscopic 3D by allowing Kirby to travel to different planes in the levels.
Kirby: Triple Deluxe does not have a release date set for the West at this time.