The 3DS gets even more Dragon Quest love starting early next year with a special edition package.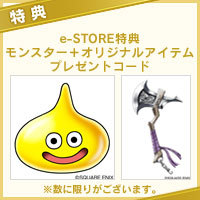 Dragon Quest Monsters 2: Iru to Ruka no Fushigina Fushigina Kagi is set to release on the Nintendo 3DS on February 6 for 5,490 yen. A special collector's version celebrating the 15 year anniversary of the Dragon Quest Monsters series will also be available on the Square Enix eStore for 6,990 yen and include the game, a special plate, two figures of the main characters Ruka and Iru and a chain to put them on. Gamers that order from the store will also receive a code for a Lemon Slime monster and a special in game axe.
Dragon Quest Monsters 2 is a remake of two Game Boy Color games that were originally released in 2001 as Dragon Warrior Monsters 2: Cobi's Journey and Dragon Warrior Monsters 2: Tara's Adventure in North America. This time around, both adventures are included in the same game similar to the compilation version that released on the Playstation in Japan in 2002. The new 3DS version also includes the ability to play with eight players locally requiring each player to have a copy of the game.
Dragon Quest Monsters 2 marks the fourth Dragon Quest title for the Nintendo 3DS in Japan. There is currently no word if any of these titles will see releases in the West.