For $99.99, you can get Mario Kart Wii, a Wii Remote Plus, a Nunchuk, and a mini Wii.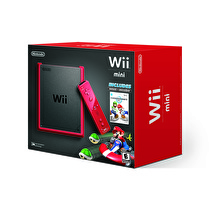 Wii Mini, the barebones version of the Wii, is coming to the United States in the middle of November. Retailing at $99.99, the system will come bundled with a Wii Remote Plus, Nunchuk, and Mario Kart Wii.
The Wii Mini, which is matte black with a red border, launched in Canada last year and is a stripped-down version of the Wii. It does not have WiFi support, SD card support, or GameCube support. That means the Wii Mini can only play disc-based Wii games locally.
This follows up recent reports that Nintendo is stopping production of the Wii, meaning that Wii Mini will be the only version of Nintendo's past system that will remain in production.