All eight of these remade classics can be yours before the end of the year.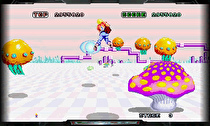 The Sega 3D Classic titles are coming to North America and Europe in November and December for $5.99/€4.99/£4.49 in their respective territories.
These remade arcade and console games will start with the release of 3D Space Harrier and 3D Super Hang On on November 28, followed by 3D Sonic the Hedgehog and 3D Altered Beast on December 5, 3D Ecco the Dolphin and 3D Galaxy Force II on December 12 and 3D Shinobi III and 3D Streets of Rage on December 19.
Released earlier this year in Japan, you can find more information about the Sega 3D Classics titles in our reviews of the Japanese versions of 3D Space Harrier and 3D Sonic the Hedgehog.