Ganbarion went from action to fitness games.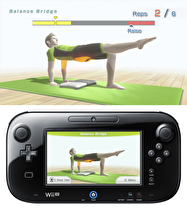 Ganbarion, the team behind Pandora's Tower, is co-developing Wii Fit U according to the title screen shown at a recent demo.
Outside of a One Piece game due out in November, Ganbarion has not had any known developed games since Pandora's Tower, which launched in 2011 in Japan. The studio, created in 1999, also worked on the Jump Super Stars series and a variety of One Piece games. It is not known how long they have been working on Wii Fit U and if they have been there since the start of development. Their name did not appear on any early demo units from the game's first appearance at E3 2012.
Wii Fit U is releasing on the eShop as a month-long trial on November 1. If you buy the Fit Meter, available for $19.99 at retailers, you can turn that free trial into the full game. The retail bundle, coming in different bundles, including one with the game, a Balance Board and a Fit Meter, and one with just the game and a Fit Meter.