So who said the Wii U doesn't have any games?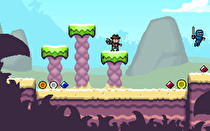 IndieCade is seeing a large Nintendo presence with numerous games being shown on the 3DS and Wii U.
Located in Los Angeles, IndieCade is the International Festival of Independent Games, and as such, features many indie games and their developers. Nintendo's booth is showing off a sizable number of Wii U games:
1,001 Spikes
Armillo
Knytt Underground
Pier Solar and the Great Architects.
Q.U.B.E
Scram Kitty and his Buddy on Rails
Shovel Knight
Tengami
Teslagrad
Unepic
Wooden Sen'SeY
The 3DS is not one to be left out, with its own set of titles:
Grinsia
Jett Rocket II: The Wrath of Taikai
Retro City Rampage
Shantae and the Pirate's Curse
Siesta Fiesta
Treasurenauts
Nintendo is also hosting a panel on bringing games to their systems. IndieCade runs from October 3 through 6.