This previous Wii U exclusive will finally see the light of day.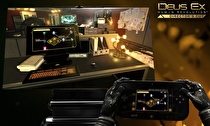 Deus Ex: Human Revolution Director's Cut is releasing on the Wii U on October 22 in North America and October 25 in PAL regions.
Edios-Montreal also announce a new Deus Ex game for "next-gen" systems, although the Wii U wasn't specifically named.
The upcoming port of Human Revolution features improved graphics and A.I., along with Wii U GamePad integration. It was originally slated to be a Wii U exclusive, but was delayed in order to bring it to other systems. The Director's Cut is being handled by Straight Right, the team behind the Wii U port of Mass Effect 3.