For $19.99 you can keep it forever.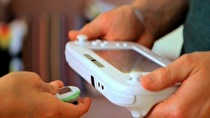 Wii Fit U will arrive on the Wii U eShop in the form of a free one month trial on November 1.
The free trial will be available until January 31, 2014 and lasts for one month from the day you download it. You can keep the digital copy by buying a Fit Meter in stores for $19.99 and syncing it with your game.
The Fit Meter, which will come in black or silver, is synced wirelessly through the Wii U GamePad to enhance a user's Activity Log in Wii Fit U and works as a pedometer and activity tracker. It will measure intensity of steps and altitude, and features a "detailed calculation" of calories burned by the user.
Wii Fit U will be available to purchase outside of this offer on December 13 in stores and February 1, 2014 on the eShop.