Cue the classic Final Fantasy victory jingle.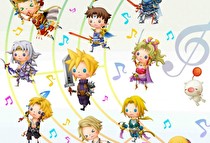 A follow-up to 2012's RPG music title Theatrhythm Final Fantasy has been unveiled in the latest issue of Japanese weekly magazine Shonen Jump.
This sequel, subtitled Curtain Call, will contain more than 200 playable songs, including a selection from the newest mainline games, Lightning Returns: Final Fantasy XIII and Final Fantasy XIV. In addition, there will also be a new multiplayer Challenge mode and over 60 characters to build your in-game party from.
Theatrhythm Final Fantasy - Curtain Call will launch on Nintendo 3DS in Japan next spring.